Figure 1. N D Eustace
Neville
Born on 4 January 1920, the same year that his father Charles, under the Registration of Firms Act of 1902, registered the business trading as Eustace & Mc Culloch at 493 Townsend St Albury, on the 24th March 1920 as no. 42402.
Risk of fire occasioned by explosion: With a background as a volunteer fireman, Charles knew the value of fire insurance and kept the business insured with the Liverpool and London and Globe Insurance Company Ltd, whose head office was at 62 Pitt St, Sydney. On 25 July 1932, the cost of a 12-month premium was £3-2-0 for "stock in trade and other contents" valued at £600. The 2 shillings was for stamp duty so the premium was £3 for the £600 cover.
23 years later in on the 25 July 1955, when Neville ran the business, the same fire insurance policy was still being paid annually for the same premium of£3 for the £600 cover! However the NSW government stamp duty had risen by only 1 shilling in that time, so the 12-month premium was now £3-3-0. Apparently inflation was not invented until later.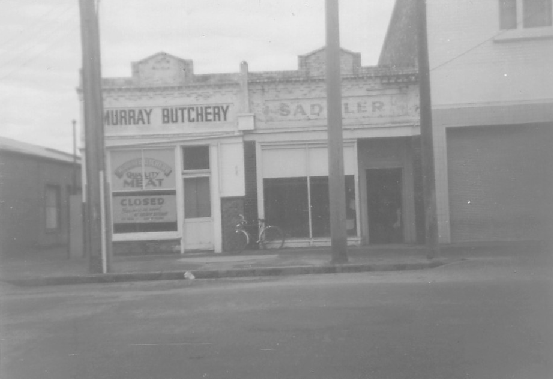 Figure 2. The Townsend St Saddler
At the time of writing in 2006, 493 Townsend St is the address of the Hogs Breath Cafe, Albury. I do not know what they pay for fire insurance, so perhaps the reader can find out if they visit the cafe. The old photo of the saddlery and the butcher shop shows Neville's bike parked out the front. Neville did not get his first car until 1966. Ever the keen cyclist, he would even deliver and install blinds by bicycle! He would often enlist the help of his eldist son Graeme to ride on behind carrying the back half of the job to the site!